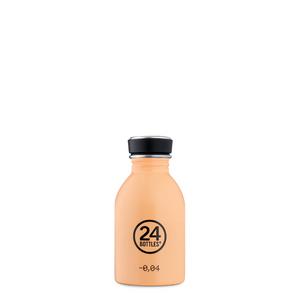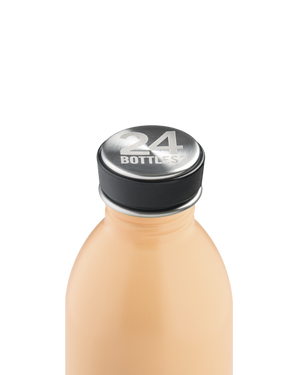 The most lightweight stainless steal bottle you will ever handle.
Highly portable and safe, Urban Bottle is the most lightweight alternative to disposable plastic bottles. A single layer of perfectly designed food-grade stainless steel is just what you need to bring your toddler's drinks (or yours! ;-) along all day, without adding weight to your bag.
This Satin Finish especially adds a smooth, silky and delicate touch to the surface, while the semi-matte feel intensifies the pleasant tactile sensation.
- 18/8 food grade stainless steel
- 100% free of BPA, phthalates, toxins
- Does not retain nor impart any flavour
- One twist to open, leak proof lid
- Single wall (not thermal)
- Wide mouth for ice filling and easy cleaning
- Hand wash recommended
Capacity 250 ml – Diameter ø 6.5 cm - Mouth ø 3.3 cm - Height 13.7 cm - Weight 78 g
Your zero emission bottle. -0,04 kg of CO2 eq is the quantity of CO2 you save from releasing into the atmosphere every time you refill your 250ml 24Bottles instead of buying a disposable water bottle. That's right: the entire volume of CO2 emissions is absorbed by the trees planted by 24Bottles®.
24Bottles® is an Italian design brand born in 2013 with the aim of reducing the impact of disposable plastic bottles on the planet and our lives.