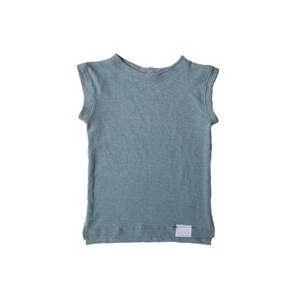 NEW SEASONAL COLOR: MINERAL BLUE. These gender-neutral tank tops by Kid's Stuff have a loose and long cut designed for long wear. That's what we call smart saving!
Versatile, they can be worn as a cool long shirt, a dress or a tunic. The ample cut allows for free movement and the sewless sleeves provide extra comfort. Ultra soft stretch fabric!
Mix & match with Kid's Stuff's amazing grow-with-me shorts and pants, also available from BBsouk.
Composition: 55% hemp, 45% Organic Cotton.
Care instructions: Machine wash and air dry.
Each shirt is handmade in Montreal !