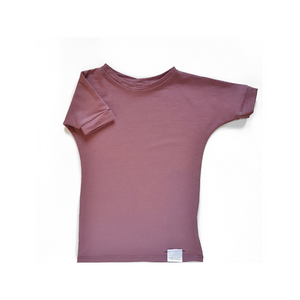 These gender-neutral t-shirts by Kid's Stuff have short sleeves, a loose and long cut designed for long wear. That's what we call smart saving! 
Versatile, they can be worn as a cool long shirt, a dress or a tunic. The ample cut allows for free movement and the sewless sleeves provide extra comfort. Ultra soft stretch fabric (yes, softer than bamboo and far more eco friendly ;)

Mix & match with Kid's Stuff's amazing grow-with-me shorts or pants, also available from BBsouk.
Composition: 66% Lyocell, 28% Organic Cotton, 6% Spandex.
Care instructions: Machine wash and air dry.
Each shirt is handmade in Montreal !
What is Lyocell? TENCEL™ Lyocell is made from wood pulp that comes from certified sustainable and renewable forests. The trees are grown specifically for production, without insecticide and without pesticides. They grow with little water and have minimal environmental impacts.

Certification: Oeko-Tex® Standard 100, Made from GOTS Certified organic cotton yarn, Lenzing Tencel™