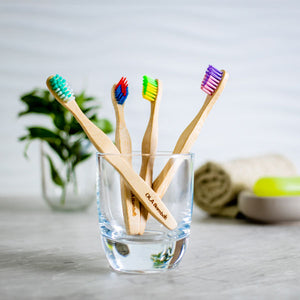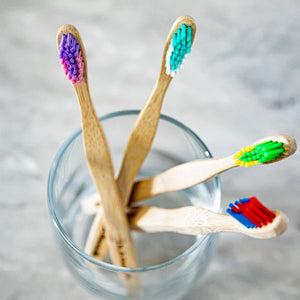 Your compostable toothbrush. Contribute to reducing plastic consumption and waste! Made of FSC-certified moso bamboo with natural antimicrobial properties*, these colorful toothbrushes make brushing easy and eco-friendly! 
- Handle is 100% compostable and biodegradable.
- Bristles are made of high-quality nylon (to be removed before composting).
- Packaging is recyclable or compostable.
- Always air dry and replace every 3-4 months.
- Designed in Canada, made overseas.
Important: Usage by children under 5 years old is not recommended; requires adult supervision. Do not let your child bite toothbrush.
Did you know? More than 4.9 billion plastic toothbrushes are thrown away every year...
* Moso bamboo is not consumed by pandas and grows naturally at a rate of up to 4 feet per day, without the addition of any chemical substances. Antimicrobial properties are backed by several studies.