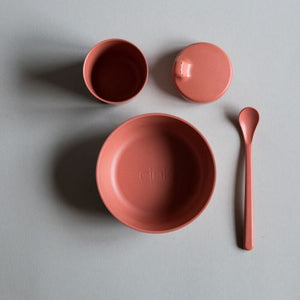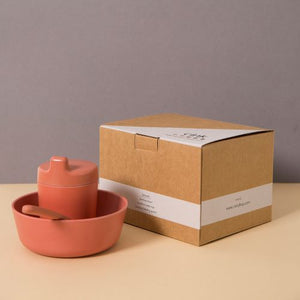 Your recycled bamboo first meals set. Not used, but recycled! :) What does that mean? cink products are made of recycled organic bamboo, i.e. from the waste created in bamboo chopsticks production. Amazing, isnt' it?
Includes a stylish bowl, a sippy cup with removable lid and a feeding spoon* in brick color. Comes in a beautiful box - also made of recycled material - which makes it the perfect gift!
All cink products are blended with GMO-free corn starch and a 100% food-grade melamine binder - but unlike traditional melamine - cink products are not coated with any surface treatments and they are coloured with water-based, food-proof colour pigments.
Designed in Sweden, made overseas.​
- BPA, PVC and phthalate-free
- Food safe approved in accordance with EU Framework Regulation (EC) No 1935/2004 , LFGB & FDA
- Suitable for hot and cold foods and liquids
- Not microwavable
- Top-rack dishwasher safe, but since they are made of natural bamboo material, hand wash is recommended for best results. Also note that bamboo dinnerware is durable and won't smash like ceramics, but it can chip, crack or break if dropped on a hard surface.
* Spoon is for feeding, not for Baby to use on his/her own. Adult supervision is required at all times.