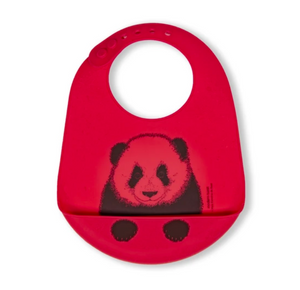 Rescue Baby's clothes from endless spills & stains!
This adjustable, plastic-free bucket bib from modern-twist has a true, premium feel.
Lightweight, with a size of 10.5" x 8", this bib is ideal for Baby's first meals and it will last until toddlerhood, before being passed on...
Every product is unique, individually cured and hand silk-screened. All designs are done in collaboration with independent artists.
- 100% pure, food-grade silicone (European & FDA compliant)
- Made of pure, silky soft & non-porous silicone
- Safe from lead, latex, phthalates, BPAs and other harsh chemicals found in plastic & lower-grade silicone
- Dishwasher safe material
CARE: Make sure to clean spills after each meal to avoid staining your bucket-bib & avoid punctures by keeping it away from sharp objects. All modern-twist products are heat resistant to 425 F or 250 C.
The modern-twist design studio is located in the San Francisco Bay Area, California. All modern-twist products are produced by carefully selected overseas manufacturers that share our values in respecting the environment, their workers and our consumers.